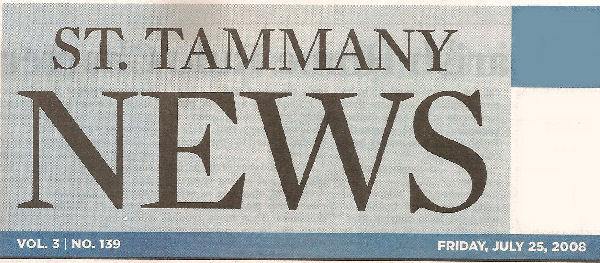 HV Drums causing a racket in the parish
By Chad Ruiz
St. Tammany News
"…and the beat goes on," at least it does in the HV Drums' garage.
There are boat enthusiasts and car enthusiasts, there are people who collect items like Coca-Cola products and Pez dispensers, and then there's Val Schaff IV, an Abita Springs resident with an ear for acoustic quality.
Schaff, a high school algebra teacher of 16 years with degrees in mathematics and industrial technology, developed his obsession with drums during his high school years at Brother Martin in New Orleans while under world-renowned band director Marty Hurley.
"The coach at Brother Martin cut me from the basketball team, so I joined the band," Schaff said, adding, ironically, his current principle at Fontainebleau High School in Mandeville was the head coach who cut him from the team.
After joining the band, he immediately fell in love with the percussions of the drum, particularly, the snare drum.
While attending the school, Hurley created a new type of drum by cutting the middle section out which ultimately enhanced the sound quality of the drum.
Many years later in 2000, while volunteering his time to tutor the drum line at Fontainebleau, Schaff decided to perfect his mentor's percussion-enhancing drum and create something of his own on a more current model of drum.
He first experimented on his own by cutting out sections of the middle instead of the entire middle, like Hurley did. After trial and error, Schaff completed his design making the first High Volume Drum.
HV Drums was born.
Basically, Schaff explained, it's like standing outside a car with the windows and doors shut while trying to have a conversation with a friend inside the vehicle.
"By cutting a series of squares out of the drum, I'm simply opening the windows of the car, which makes the voice much clearer and slightly louder," he said. "To me, a drum has a voice, and this lets the drum breath so you can hear the snares."
Schaff's own teacher fell in love with the HV drums.
"He loved it and wanted me to make one for him," Schaff said.
The word quickly spread, and his unique device became sought after commodity by band directors and drum players alike. His largest order came recently when Schaff introduced his new and improved instrument to the University of Southern Mississippi's percussion director and Professor of Music Dr. John Wooton.
After hearing then playing his own drum modified by Schaff, Wooton was so awestruck by its clarity and pitch, he requested 13 more to be made for his entire drum line, including snare, tenor and base drums.
It was a daunting task and by far the largest single order HV Drums received, and Schaff completed the set several days ago, but not before "losing about 20 pounds from sweating."
Each drum, Schaff said, takes roughly 20 hours over three days to modify because there's more to it than cutting squares in wood.
"There's a lot of physics behind it," he said.
Schaff single-handedly carves each square with exact precision. Although he refused to disclose his method of cutting, he did say the notches were grooved with a slight slope to each edge.
After her makes his cuts, he pieces the drum back together and hand delivers it to its new owner. Schaff said he's basically got the process down pat with the only improvements needed in the expediting process.
With the newest order to southern Mississippi, business has picked up. Schaff is entertaining queries from other big-name universities he declined to disclose. But even with the big business possibility, Schaff was reluctant to say he would leave teaching, another passion of his, to expand HV Drums.
For more information on HV Drums, visit the Web site at www.hvdrums.com.